Chasing Medical Miracles: The Promise and Perils of Clinical Trials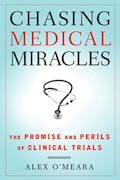 A well-researched and personally-grounded exploration into the ethics and business of medical studies, and indeed: what a big business it has become. The author himself has diabetes, and decides to undergo an experimental procedure as a test subject, a human guinea pig as it were, where donor insulin-producing cells are transplanted into his liver as part of a potential cure. He decides to learn more about clinical trials and presents the results of his extensive research, while we're kept in suspense until the end of the book as to whether his own experimental treatment was ultimately successful.
Here are a few things that come to mind when I think about medicine.
It's amazing how far we've come, and how much we know.
I'm often reminded how basic/primitive, still, our understanding is of many of the body's systems. Actually I wouldn't use the word "primitive" with respect to our understanding, rather with respect to our current ability to manipulate and fix, compared to what should eventually be possible. We understand a lot but can't do much about it.
Contrasting the above two ideas is probably a tired cliche. But I'm still continually struck by it. How far we've come, and how far we've yet to go. Yeah, yeah. Bear with me.
The author doesn't take sides, and tries to present various concerns in a balanced way — and some of the ethical issues are pretty fascinating. For example, there was a trial of anti-HIV drugs done in Africa where participants in the study either received the drug being tested, or a placebo. Meanwhile, back "home", there are standard, helpful HIV treatments available, and common practice is to compare a new drug with the current best-known treatment on the market in order to determine whether the new drug is any better than the current baseline. But because poor, HIV infected Africans didn't ordinarily have access to the baseline drug in the first place, it wasn't administered as part of the study, either. As a result, half of the study participants (who received the placebo and effectively went untreated) died or became sick. There was, not too surprisingly, an outcry about the ethics here. On the one hand, by doing a placebo-controlled trial, the new drug could potentially have been approved and brought to market much faster. On the other hand, placebo-based trials are almost never done in the U.S. or developed countries when baseline care (my terminology) is available. The drug company which sponsored this study argued that ultimately many more lives would be saved by faster approval of its drug, and futhermore that the people receiving the placebos wouldn't have likely received any care at all, anyway. Others argued that people participated in the trials out of desperation and under the belief that they would receive actual treatment, and to have denied baseline treatment was unfair exploitation — that although we know that the one and only purpose of medical research is to gather data, not to provide treatment, in many circumstances it's difficult for subjects, particularly those who don't have any routine or even accessible medical care at all, to understand or believe this no matter how it's explained to them (and researchers have an incentive to not explain it tirelessly but rather to allow or encourage the formation of hope).
I've encountered a few friends or colleagues recently who have tremendous mistrust for the medical establishment. (That goes together with stories in the news about parents who somehow remain convinced that there's a link between childhood vaccines and autism, I think.) One person believed that chemotherapy is essentially a scam perpetrated by doctors and hospitals in order to make money, an expensive and ultimately unnecessary treatment because there are other, cheaper, more natural, less harmful treatments available. (That view disgusted me, since I and most of us have friends who've dealt with cancer.) Or that in the field of psychiatry, drugs are "pushed" on patients by doctors who are paid by drug companies to write prescriptions. (Incentivized? An area of concern, but not something with which I'd condemn a whole field of medicine.) In reality, the world of medicine is extremely complex, and simplistic conspiracy theories like that just don't ring true. The key is, everything in medicine depends on data. If there's some compelling evidence that, for example, eating precisely ten navel oranges a day cures cancer better than chemo, somebody will probably fund a clinical trial to test that. In general drug companies do fund the majority of studies, but there are layers of independent review boards, politicians, research hospitals, and lawyers ready to swoop in, all of which creates an atmosphere of oversight and regulation. Private donors, too (as in the case of the diabetes-cure trial the author underwent). It's not perfect, and there are murky ethical boundaries sometimes crossed, policies which need to be tweaked, incentives and regulations to be adjusted and so on, but as a whole, the machine works.
Overall, Chasing Medical Miracles conveys a message of hope. More clinical trials than ever before are being done, more stuff is being tested, and although "miracles" are unlikely, we're chipping away at the rock face, gathering data a little at a time, and I think it's okay to put some trust in the system.